Diegesis Carbon Reduction Plan
Nick Denning
|
15 November 2021
Nick Denning is CEO of Diegesis Limited, a business technology and IT systems integration company and Nick is an acknowledged relational database expert.
Commitment to achieving Net Zero
Diegesis Ltd is committed to achieving Net Zero emissions by 2050.
Baseline Emissions Footprint
Baseline emissions are a record of the greenhouse gases that have been produced in the past and were produced prior to the introduction of any strategies to reduce emissions. Baseline emissions are the reference point against which emissions reduction can be measured.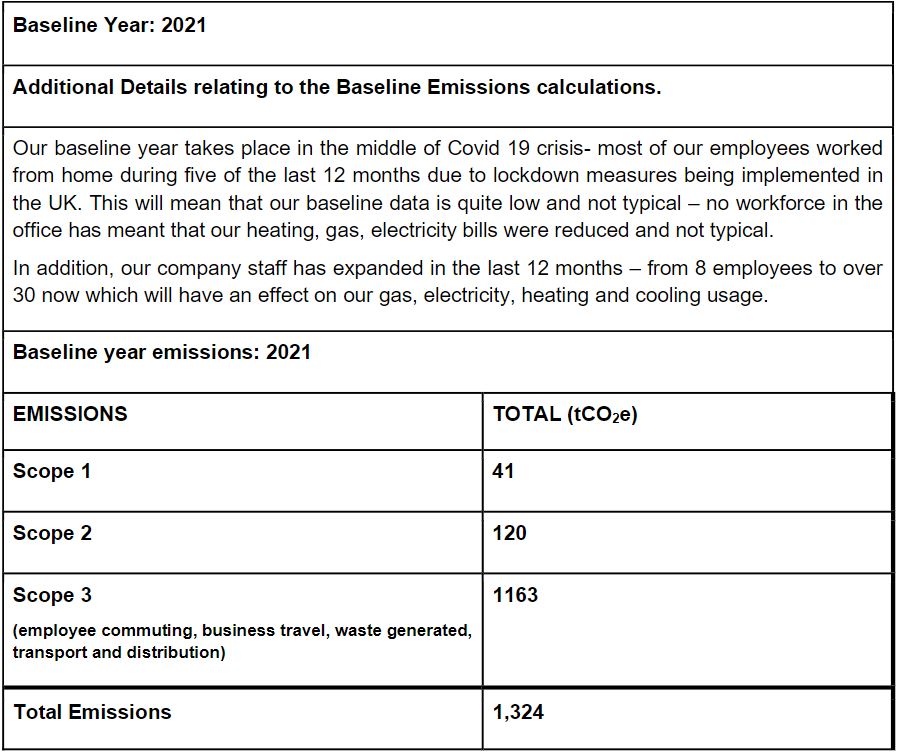 Emissions reduction targets
In order to continue our progress to achieving Net Zero, we have adopted the following carbon reduction targets. We project that carbon emissions will decrease over the next five years to 1192 tCO2e by 2026. This is a reduction of 10%. Progress against these targets can be seen in the graph below: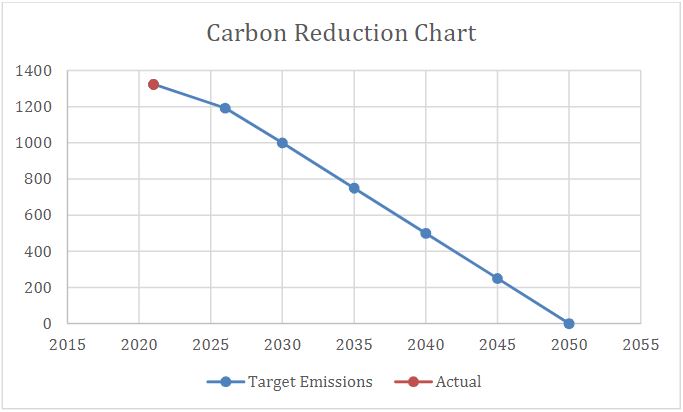 Carbon Reduction Projects
Completed Carbon Reduction Initiatives
Our company has worked hard to embrace and introduce environmentally friendly ways of working prior to the need for the baseline data.
We have installed:
– LED lights with movement sensors on the ground floor so that consumed energy is reduced and lights automatically switched off when not in use.
– Equipment to provide hot water for drinks on a cup-by-cup basis removing the need to boil a partly filled kettle where most of the water boiled is not used.
Waste Reduction and Re-cycling – We have separate bins for general waste, recycling and confidential waste and we pay to have each type of waste removed and handled appropriately.
Water Reduction – We have minimal water usage: lavatories, dishwashing and cleaning of hands. Our approach is to use the dishwasher when needed rather than every night.
Travel Reduction – We operate the cycle to work scheme to encourage staff to prioritise transport use through walking, cycling or public transport. We encourage staff to find accommodation the local area to minimise their travel to work needs. We support working from home where practical and consistent with the needs of projects.
In the future we hope to implement further measures such as:
All new IT equipment will be energy saving, with auto switch off functions after periods of inactivity
Light motion sensors to be installed on all floors and bathrooms
Declaration and Sign Off
This Carbon Reduction Plan has been completed in accordance with PPN 06/21 and associated guidance and reporting standard for Carbon Reduction Plans. Emissions have been reported and recorded in accordance with the published reporting standard for Carbon Reduction Plans and the GHG Reporting Protocol corporate standard1and uses the appropriate Government emission conversion factors for greenhouse gas company reporting. Scope 1 and Scope 2 emissions have been reported in accordance with SECR requirements, and the required subset of Scope 3 emissions have been reported in accordance with the published reporting standard for Carbon Reduction Plans and the Corporate Value Chain (Scope 3) Standard. This Carbon Reduction Plan has been reviewed and signed off by the board of directors (or equivalent management body).
Declaration and Sign Off